Financial & Trading Floors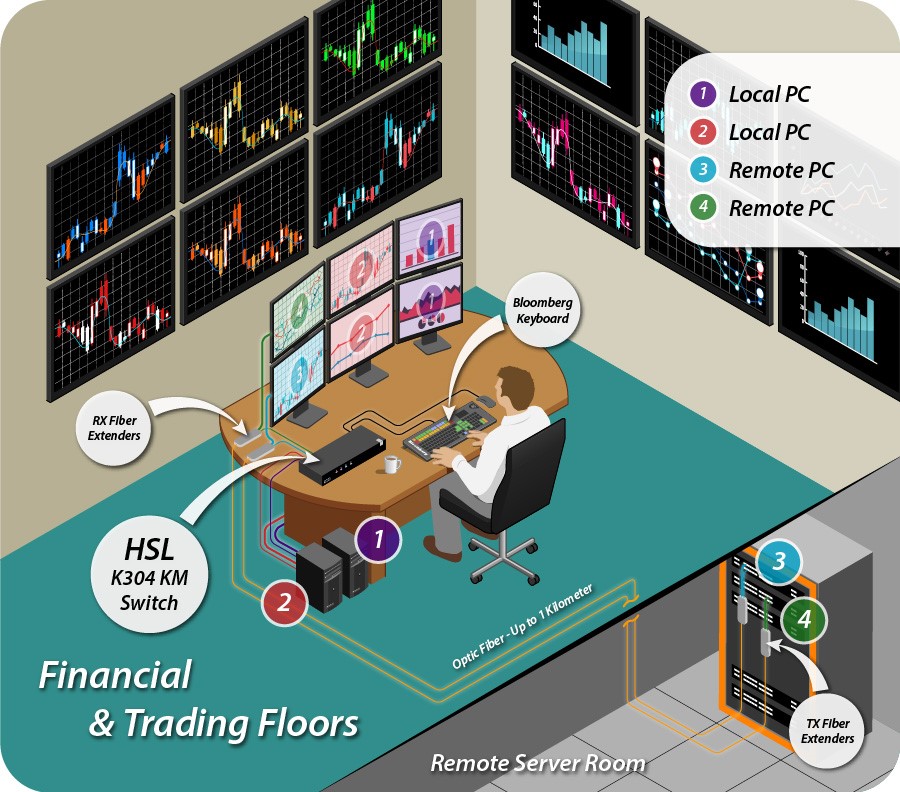 Brief: 
Scrutiny in the financial sector is becoming more demanding as networks are more complex and security threats more prevalent. HSL provides secure and user-friendly solutions for multi-display, application-intensive financial environments.
---
Challenge:

 
Scrutiny in the financial sector is more demanding as networks become more complex and security threats more prevalent. Regulators, customers, investors and media pressure financial companies to ensure their systems and data are appropriately protected from inquisitive eyes and hackers.
The challenge is to provide a user-friendly environment for multi-display, application-intensive trading floors that is compliant with harshest security standards.
---
Use Cases:
There are many cases where analysts and traders need to work simultaneously with multiple computers from different security levels. Ease of use and orientation are kept as users are provided with a single keyboard and mouse that control multiple isolated computers.
Traders' data-intensive applications integrate information from several sources that must be compared on multiple displays in real-time.Analysts and traders benefit immediately and immensely from the ability to seamlessly switch control between sources with the ease of moving their mouse cursor.
---
Solution:
HSL developed a range of secure switching and extension solutions that are specifically applicable to financial trading floors.
HSL products at the trader's desk enable easy switching between multiple computers by moving mouse cursor over display borders while real-time information monitoring continues on multiple displays.
Supporting Bloomberg keyboards complements a perfect solution for the financial sector.
---
Related Products:
HSL KM switches provide secure assignment of multiple sources to multiple displays.
You can easily and securely control which source will be displayed on desktop displays or large screens, including support of multi-displays. Easy navigation is provided with the ease of moving the mouse cursor across display borders with the HSL VDT (Virtual Desktop Technology).
Usability is further enhanced with the support of Bloomberg keyboards required for financial markets and predefined preset configurations.
---
Key Benefits
Highly compatible with financial market requirements, such as multi-display support, Bloomberg keyboard support, and more
Flexibility: easily removable and re-locatable products
Fast installation time, plug & play operation
Superb quality and reliability
Green, Small form factor products, efficient power consumption
High security features including:
o   EAL4+ certification
o   hardware-based optical data diodes isolation, no dependency on software
o    Active anti tampering system with over 10 year operation cycle