SECURE 8/16 PORT KVM COMBINER SWITCHES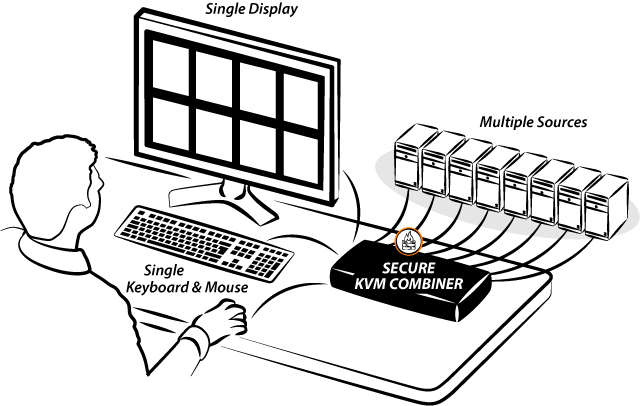 When you need to interact with several computers at the same time, typical KVM switches are limiting. Why? Because they only let you view and work on a single computer at a time.
HSL's Combiner switch provides you with the flexibility to interact with multiple computers, while letting you:
View all computers on one or two displays. It functions as a KVM switch, a scaler, and a multi-viewer – all in one.
Move the mouse and keyboard freely between all computers.
It also saves you money, by eliminating the need to purchase and install dedicated, per-computer peripheral sets.
Secure by design
The Combiner's most important feature is security, HSL's expertise. Due to its unidirectional architecture, it maintains complete isolation while switching between vulnerable, untrusted, or unauthorized multiple computers and peripherals – preventing data leakage. It blocks threats such as: peripheral exploits, information leaks, eavesdropping, signal transmission, computer malware, hardware, and firmware tampering.
The Combiner switches meet the security requirements demanded by government agencies, military installations, financial institutions, and similar security-sensitive users.
View and control multiple computers simultaneously
With a single Combiner, you can view and control up to four computers at the same time. Cascading Combiners, increases the number up to 16 (4×4) computers on a single or dual display.
Interact with multiple computers shown on the same display – at the same time – using a single set of USB, audio, keyboard, video, and mouse peripherals.
Smoothly switch between computers (Virtual Display Technology):Automatically switch control from one computer to another, by dragging the mouse cursor over the computer's display border. The peripherals then switch to the next computer – with no need to press any buttons.
View applications in Ultra High Definition (UHD) 4K video quality:
Never compromise on video quality. Run graphic-intensive, ultra-high definition applications on all single- and dual-monitor KVM models.
Native touch screen support:
Interact with all computers connected to a KVM Combiner, using touchscreen gestures. No need to install drivers or software.
Flexible screen layout:
Resize source scaling and aspect ratio, to create tile, scale, and custom display layouts that fit your needs. Supports screen-duplication and extended-screen view modes.
Dual DisplayPort and HDMI connector:
Connect either DisplayPort or HDMI sources into the same port, with the new dual-source video connector. Eliminates the need for adapters and converters.
State-of-the-art conversion scaler:
Rapidly convert any input and output resolution (up to 4K) to optimal quality display, on a 4K screen, using the built-in scaler.
Extremely low latency viewing:
View the input channel with extra low latency – below 10ms – using the direct mode feature.