SECURE 4 PORT KVM COMBINER SWITCHES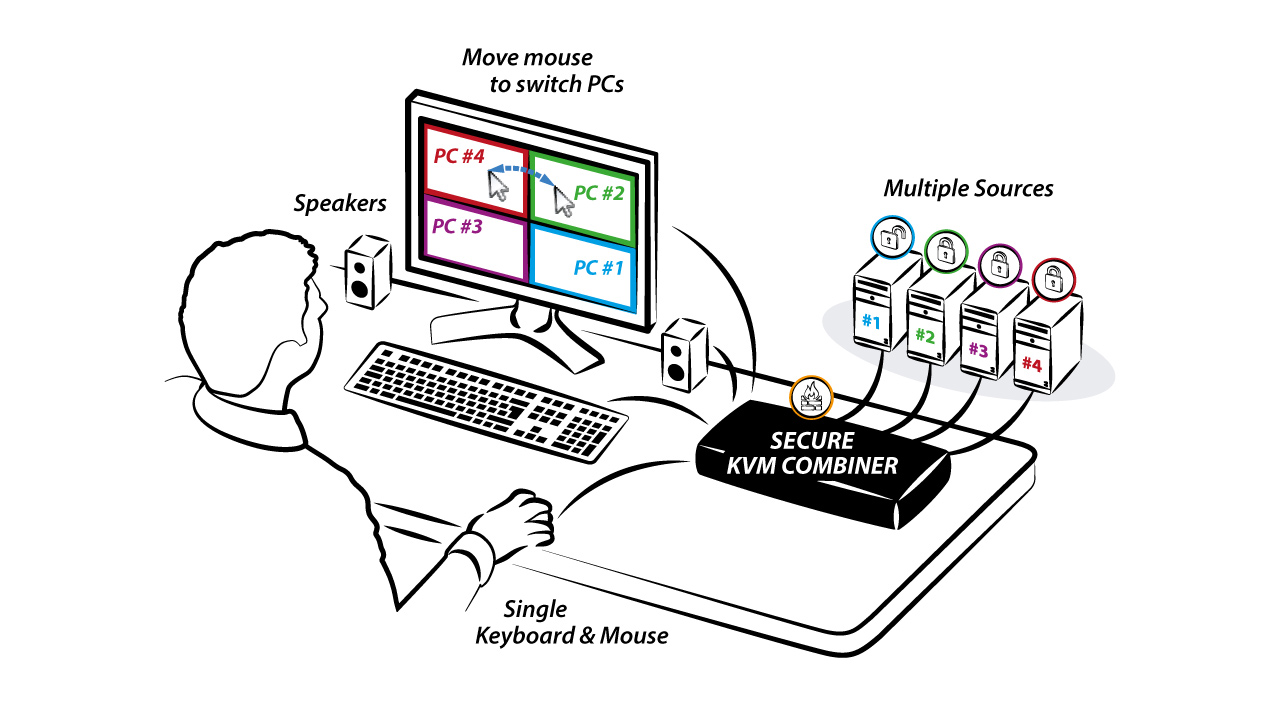 The KVM Combiner switch offered by HSL provides increased productivity in challenging multi-computer environments where users are required to view and interact with several computers at the same time. Optimize user experience while maintaining the highest isolation between computers and peripherals.
Obviate the need for purchasing and installing dedicated, per-computer peripheral sets.
Copy & Paste
Transfer text and files between all the computers that are connected to the KVM through the KVM (no network connection is needed between parties). Use standard copy and paste keyboard key combinations (CTRL+C / CTRL+V) or mouse context-menu commands to transfer data between computers that are connected to the KVM.
View and control multiple computers simultaneously
Present and work with up to 4 computers at the same time. Cascade combiners to view and control up to 16 (4×4) computers on a single or dual displays.
Interact with multiple computers presented on the same display at the same time using a single set of USB, audio, keyboard, video and mouse peripherals.
Freeze USB:
Assign the USB port to a specific computer while switching the keyboard, video, mouse and audio between other computers. Useful for various scenarios, for instance, when a USB smart card reader  must remain mapped to a certain computer.
Smoothly switch between computers (Virtual Display Technology):
Automatically switch control from one computer to another by dragging the mouse cursor over the computer's display border. Peripherals switch to the next computer without hav‌ing to press any buttons once the mouse is passing the display border.
View applications in Ultra High Definition (UHD) 4K video quality:
Never compromise on video quality. Run graphic-intensive, ultrahigh definition applications on all single and dual monitor KVM models.
Native touch screen support:
Interact with all the computers that are connected to the KVM Combiner using
touch screen gestures. No need to install any driver or software.
Flexible screen layout:
Resize source scaling and aspect ratio to create Tile, Scale and Custom display layouts that fit user needs. Support screen duplication & extended screen view modes.