SECURE 8 PORT SINGLE-HEAD KVM SWITCHES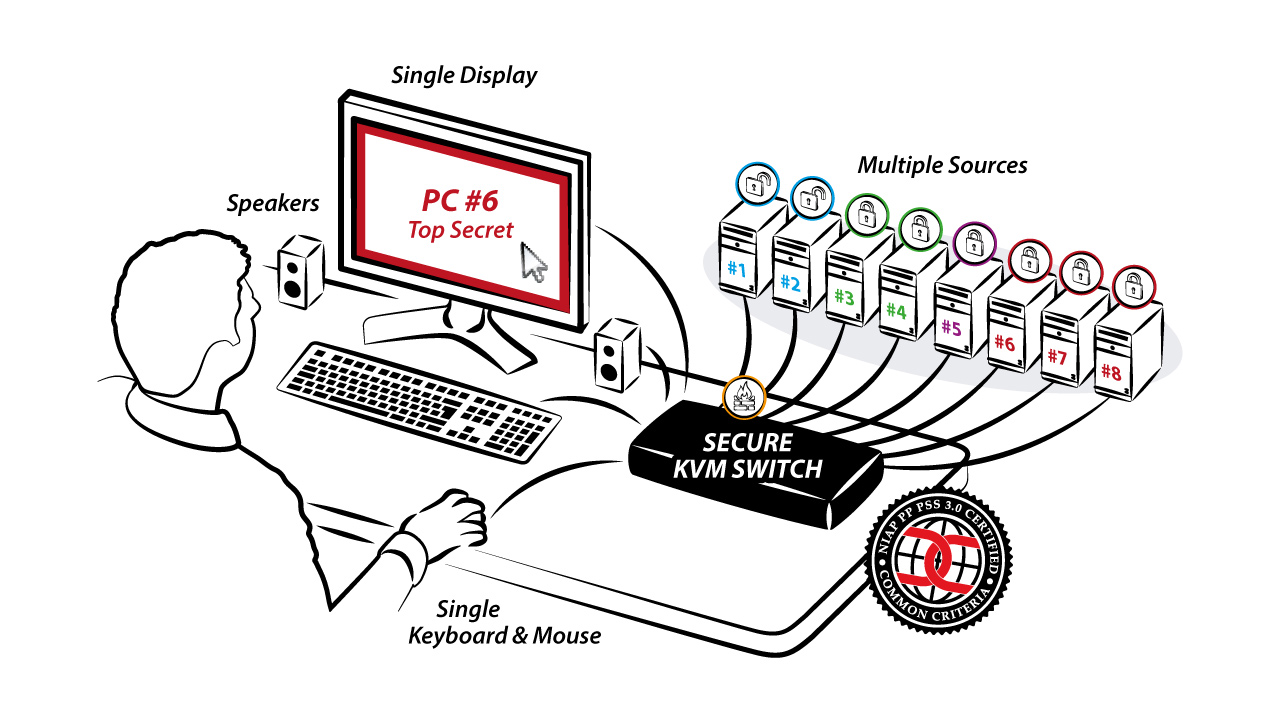 Keyboard Video Mouse (KVM) switch offered by HSL allows securely sharing keyboard, video, mouse, audio and USB peripherals between multiple computers while maintaining the highest isolation.
Obviate the need for purchasing and installing dedicated, per-computer peripheral sets.
NIAP Common Criteria PP3.0 Certification (SK81x-3 Products Only)
HSL KVMs qualify to the latest NIAP Common Criteria Protection Profile version 3.0 (PP3.0) certification for peripheral Sharing Switch (PSS) devices.
Securely share peripherals across different security domains
Securely share peripherals between computers that belong to different security classifications levels while keeping the highest possible data separation security.
Prevent information leaks
Obstacle threats derived from sharing and switching of vulnerable, untrusted or unauthorized peripheral devices. Block peripheral exploits, information leaks, eavesdropping, signal transmission, computer malware, hardware and firmware tampering by enforcing multilayered security mechanisms.
Filter USB Peripherals
Block unauthorized USB devices while allowing secure switching of smart card and biometric authentication devices between computers. Whitelist and blacklist specific USB devices based on VID/PID characteristics.
Interact with eight isolated computers using a single set of keyboard, video, mouse, audio and USB peripherals.
Freeze USB:
Assign the USB port to a specific computer while switching the keyboard, video, mouse and audio between other computers. Useful for various scenarios, for instance, when a USB smart card reader  must remain mapped to a certain computer.
Smoothly switch between computers (Virtual Display Technology):
Automatically switch control from one computer to another by dragging the mouse cursor over the computer's display border. Peripherals switch to the next computer without hav‌ing to press any buttons once the mouse is passing the display border.
View applications in Ultra High Definition (UHD) 4K video quality:
Never compromise on video quality. Run graphic-intensive, ultrahigh definition applications on all single and dual monitor KVM models.
Avoid typing mistakes:
Since two-way communication is blocked by the KVM security, keyboard lock LEDs do not function. Help users avoid typing mistakes by visually indicating the status of keyboard locks (CAPS-LOCK | NUM LOCK | SCROLL LOCK) on the product's front facing panel.
Keep up with future requirements through interchangeable KVM / KM functionality:
Adjust with versatile setup scenarios. The device can be configured in two modes, KVM and KM. In KVM mode (default) one display, keyboard and mouse set is shared between all computers. In KM mode each computer is connected to a separate display while keyboard and mouse are shared, thus allowing simultaneous work on multiple computers.