2 PORT SINGLE-HEAD OFFICE KVM SWITCHES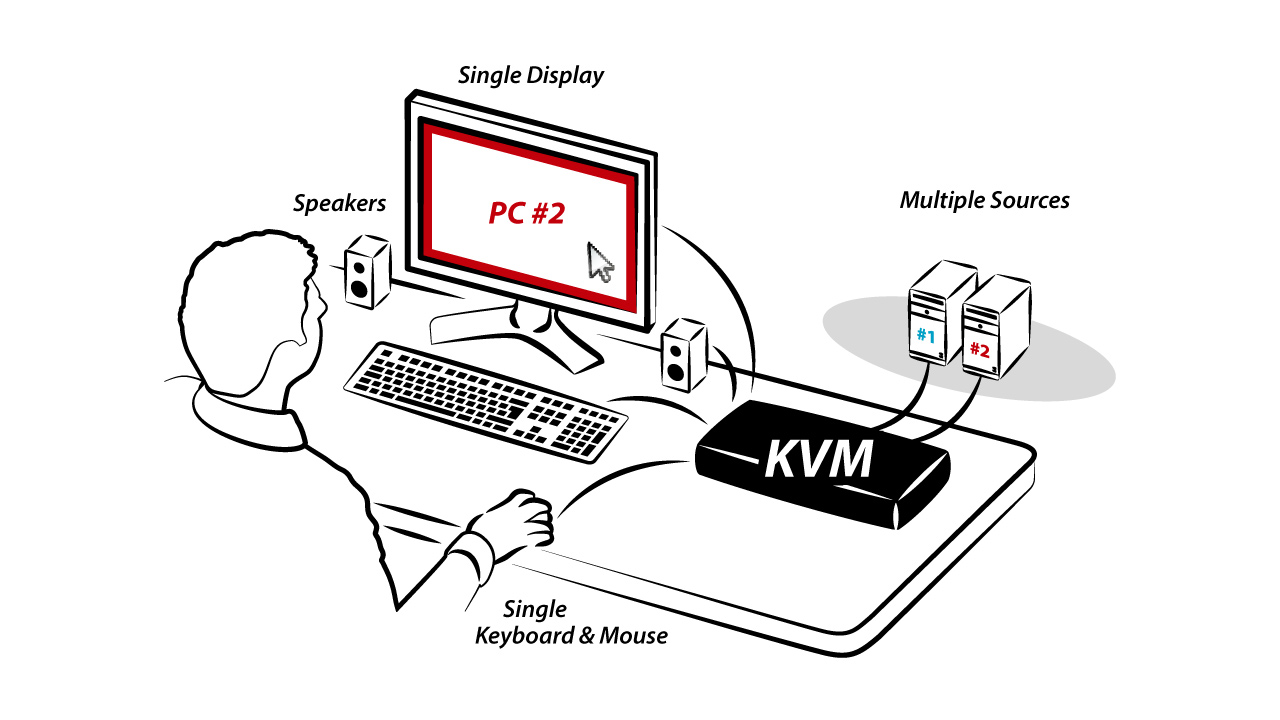 KVM device models addressed in this page:
SK21D-N – 2-Port DVI-I Video KVM Switch
SK21H-N – 2-Port 4K HDMI Video KVM Switch
SK21P-N – 2-Port DisplayPort to HDMI Video KVM Switch
——————————————————————————-
KVM HIGHLIGHTS
Share keyboard, video, mouse and audio peripherals between two computers.
Simplify user experience
Users that work with multiple computers such as, financial traders, are inconveniently forced to interact with multiple sets of keyboard, video, mouse and audio peripherals.
The Keyboard Video Mouse (KVM) switch offered by HSL allows effortlessly sharing a single set of peripherals between two computers.
Copy & Paste:
Transfer text and files between all the computers that are connected to the KVM through the KVM (no network connection is needed between parties). Use standard copy and paste keyboard key combinations (CTRL+C / CTRL+V) or mouse context-menu commands to transfer data between computers that are connected to the KVM.
ֿFeature rich KVM
Includes versatile built-in features designed to enhance user experience and product usability.
Save valuable desk space
Allow users that work in space-restricted environments to interact with multiple computers in spite of hav‌ing limited desk space.
Reduce costs
Obviate the need for purchasing and installing dedicated, per-computer peripheral sets.
Interact with two computers using a single set of keyboard, video, mouse and audio peripherals.
View applications in Ultra High Definition (UHD) 4K video quality:
Never compromise on video quality. Run graphic- intensive, ultrahigh definition applications on all single and dual monitor KVM models.
Freeze Audio:
Assign the audio port to a specific computer while switching the keyboard, video, mouse and USB peripherals between other computers. Useful when a user has to listen to audio originating from one computer while working on another computer.
Keep up with future requirements through interchangeable KVM / KM functionality:
Adjust with versatile setup scenarios. The device can be configured in two modes, KVM and KM. In KVM mode (default) one display, keyboard and mouse set is shared between all computers. In KM mode each computer is connected to a separate display while keyboard and mouse are shared, thus allowing simultaneous work on multiple computers.
Smoothly switch between computers (Virtual Display Technology):
Automatically switch control from one computer to another by dragging the mouse cursor over the computer's display border. Peripherals switch to the next computer without hav‌ing to press any buttons once the mouse is passing the display border.